Decorate your aquarium with 10 of the most beautiful large aquarium decorations favored by dozens of goldfish hobbyists. The gorgeous detail and large size of these tank ornaments make them perfect for a goldfish tank, where big aquariums are the norm.
Not only are they aesthetically pleasing, but they're also made from high-quality materials and very safe for your goldfish. These large aquarium decorations will last for years. You'll never have to deal with chipping paint or cloudy water.
I recommend at least 30 gallons of aquarium water for the ornaments listed, since many of these ornaments are too big for smaller aquariums (and really, your goldfish tank shouldn't be any smaller than 20 gallons anyway – see my goldfish tank guide). Sizable dimensions mean more hiding spaces for your goldfish. Many large aquarium decorations even include bubbling air stones for increased surface agitation (much needed for healthier aquarium water).
Greek Sanctuary Ornament from Top Fin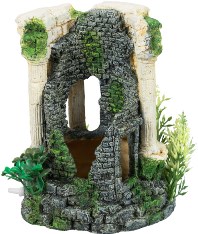 This elegant 5-inch wide and 7-inch high (5-inch diameter) Greek sanctuary ornament is breathtaking! If the incredible detail on the bricks and columns doesn't make you drool, surely the ample hiding spaces for your goldfish will. Capture the Greek ruins in your aquarium with highly photogenic realism and give your goldfish a very durable piece to explore. This large fish tank ornament is glowing with positive reviews.
I have a 5″ Synodontis and he has claimed this as his home. When I lifted the decoration out of the tank he tried to swim up with it. He didn't want to give it up. – Gryph70