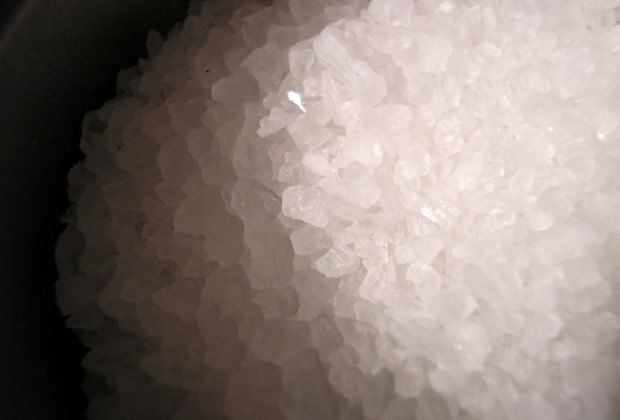 How much salt do you need to keep your goldfish alive and paddling?
It depends on what you're using the salt for. If you want to prevent goldfish diseases, you won't need much of it. But if you're treating goldfish parasites, you might consider a salt bath.
Don't worry if this all sounds confusing. We'll walk through it, step by step.

First, we'll compare different methods on how to use aquarium salt. Then we'll determine the aquarium salt treatment that's right for your tank.
Let's dive in.
Aquarium Salt Treatment #1: Keep Your Tank Salted at All Times
Maintaining a low level of salt in your tank not only treats ugly goldfish diseases.
It prevents them.
An aquarium salt treatment can also be used regularly to reduce goldfish stress and stimulate slime coat production. Plus, salt can kill off parasites harmful to goldfish, nipping one problem in the bud!
How to Use Aquarium Salt Regularly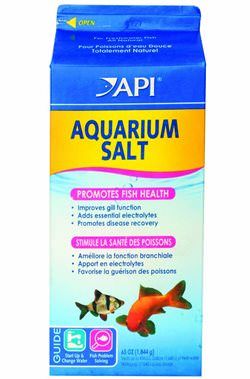 You don't need a lot of salt for it to be effective. In fact, I recommend using very little aquarium salt as a preventative.
Let's take a look at how to use aquarium salt, whether or not you're treating infections.
When preventing goldfish diseases: Add ½ teaspoon (or less!) for every gallon (about 4 liters) in your aquarium. After a partial water change, treat the amount of water you took out of the tank.
When reducing stress or treating parasites: Add 1 tablespoon (3 teaspoons) for every 5 gallons (19 liters) of aquarium water. If you're performing a partial water change, only add the correct amount of salt to water taken out.
The higher the dosage, the more concentrated the salt.
When you're dealing with parasites, you'll want salt concentrations to be slightly higher than your routine salt treatments. The higher concentration makes the aquarium salt treatment more effective.
This means that killing off icky parasites will be much easier. And at the same time, you're not stressing out your poor goldfish with the increased salt concentration.
But never add salt when topping off the goldfish tank (replacing evaporated water).
Salt doesn't evaporate, so you'd be adding more salt than your goldfish need. Too much of an aquarium salt treatment can be very stressful. Only add salt with every water change (and only for the amount of water you took out).
But watch out! This type of treatment does have its drawbacks.
Pitfalls of a Routine Aquarium Salt Treatment
While adding salt regularly can help prevent goldfish diseases, you might run into a few problems.
Using salt as a preventative can make parasites resistant to salt treatments. So if your goldfish get sick, you may have to stick to medications instead.
By adding salt all of the time, your goldfish are constantly producing extra slime. This can be as uncomfortable as wearing an extra jacket during the winter season, even if you're guarding against cold. Salt also acts as an irritant (that's how it thickens the slime coat!).
Salt and aquatic plants don't mix. And some plants simply don't tolerate salt well. Even so, most plants should do fine with a little bit of aquarium salt.
A regular dosage can reverse the effects of zeolite (filter media that removes ammonia). Sure, salt recharges zeolite (but only by making it release all of that pent-up ammonia it had absorbed). So if you're using zeolite in your filter, remove it before an aquarium salt treatment.
With so many disadvantages, should you even add salt regularly?
If you're maintaining healthy conditions in your aquarium, your goldfish aren't likely to get sick in the first place. So you wouldn't really need to use salt as a preventative.
But it's up to you. This type of aquarium salt treatment might be useful if you're keeping goldfish in uncomfortable conditions temporarily. It will help prevent infections until you can move your goldfish to their primary home.
If you prefer only to use salt when your goldfish are sick, there's a better method. It's called the salt dip.
Aquarium Salt Treatment #2: Only Treat Your Tank When Needed
One school of thought is that salt doesn't belong in tanks at all times.
Instead, many aquarists like to use salt only to treat stress and parasites – when there are symptoms. Aquarium salt can also be used in emergency situations, when nitrite levels are at their peak. And it's particularly effective in quarantine and hospital tanks.
You can either add salt directly into the aquarium (1 tablespoon or 3 teaspoons per 5 gallons) or perform a salt dip (a short-term salt bath).
Below, we'll talk about the latter – how to give your goldfish a salt bath. But first, you'll want to set up a hospital or quarantine tank your goldfish will stay in until you've eradicated all parasites in the main aquarium.
Already have a quarantine tank up and running? Great! Let's move on to the next step…
How to Use Aquarium Salt in a Salt Dip to Treat Infections
Doing a salt dip is actually pretty easy (even though the very idea may be a bit scary!).
By exposing your goldfish to salt temporarily, you can quickly eradicate parasites. And all you need is a 5-gallon bucket or tank with a working airstone (make sure to attach it to the appropriate air pump), some aquarium water, and the salt of course!
How to use aquarium salt in a salt dip? Let's walk through the steps.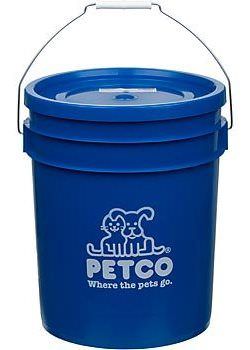 Fill a bucket with aquarium water (remember how many gallons that bucket can hold). Make sure it has the same temperature and pH as your tank water. You don't want to shock your goldfish!
Mix the salt solution. Pour in 30 teaspoons of non-iodized salt for every gallon (4 liters) of water (source). Stir the solution until the salt is dissolved.
Gently scoop your goldfish into the aquarium salt treatment. Wait five minutes, observing how your goldfish react to the water. If your goldfish act a bit odd, that's normal. But if they roll over or rest to the side and can't right themselves, return them to the quarantine tank (you may have to use the former salt treatment method or medicate instead). If all is well and your goldfish continue to swim upright, keep up treatment for 55 minutes more or up to a total of 2 hours (source).
Move your goldfish to a quarantine tank. This tank should have the same temperature and pH levels as the aquarium salt treatment. Ideally, you'll want to use a fully-cycled 20-gallon aquarium (for one or two goldfish). But for a single goldfish, a 10-gallon quarantine tank may work as well.
Treat the primary aquarium to get rid of any remaining parasites. You can use salt or a medication for this. Once you're sure that you've killed off all parasites (this will depend on the parasite life cycle), you can re-introduce (acclimate) your goldfish to their now parasite-free environment.
A salt dip can head off potentially nasty infections, deteriorating slime coats, painful wounds, and a bulk of other problems. But because salt doesn't evaporate, you should remove the aquarium salt treatment with a series of water changes once you've killed the parasites.
One Disadvantage of a Salt Dip: It Can Be Stressful!
Luckily, your goldfish won't stay in the salt solution for very long. And by the time you're done with treatment, your goldfish should be parasite free!
But during the aquarium salt treatment, keep an eye on your goldfish.
If your goldfish aren't responsive, give them a soft pat to get them moving. If even that doesn't work, remove your fish from the aquarium salt treatment right away. Some goldfish diseases can take a toll on fish – and your goldfish might be too weak for the salt dip.
Of course, you'll still need to treat the entire aquarium after the salt dip. So keep your goldfish in a quarantine tank until you've exterminated every last parasite.
Which Method Is More Effective?
You've learned how to use aquarium salt. But which aquarium salt treatment is your best bet?
Choose the option that makes the most sense to you.
Many goldfish hobbyists recommend using a salt dip when necessary, but adding salt to your aquarium regularly can reduce stress when goldfish are already in an uncomfortable environment.
But while salt can be a good preventative, you also want the immune system to keep running strong (and regularly putting salt in the tank can make parasites more immune to the salt, especially if you don't change concentrations).
Regardless of which choice you make, stay away from salts with additives!
The extra stuff in table salt can be harmful. Special aquarium salt (designed for freshwater fish), non-iodized rock salt, or kosher salt is generally what you will want to work with.
Anything else might endanger your aquatic friends – and that's the opposite of what you want an aquarium salt treatment to do.
Your Turn: How Do You Use Aquarium Salt?
What to do you think? Should you add salt regularly or only when you need it? What's your preferred method of treatment?
Post your thoughts in the comment section below!