This goldfish is disabled. She tiredly tries to swim, but her swim bladder just won't keep her upright! Luckily, her fish owner got creative and built her a goldfish harness to help her stay afloat.
A goldfish harness is certainly a neat idea, but only if your goldfish has a swim bladder disorder (and isn't just constipated).

Swim Bladder Disorder: You've Seen It Before
Your goldfish is laying on the substrate, barely moving. Every so often, your goldfish will try to swim – only to wobble sideways and flip upside down!
Feeding time comes around and your goldfish can barely reach his food before it's snatched away, his tank mates munching with abandon. Your goldfish watches for a few minutes, frustrated that he can't get a bite. Then your goldfish drifts back to the bottom where he'll stay for the remainder of the night.
You've tried everything to help the little guy.
You've fasted your goldfish for 3 days, then fed him frozen peas, freeze-dried daphnia, or low-protein foods.
You've monitored the aquarium water with a freshwater test kit and ensured that pH, ammonia, nitrate, and nitrite conditions stayed in the healthy range.
Finally, you've placed your fish in a quarantine tank, hoping the less stressful environment (without overly excited tank mates) would solve the problem.
Nothing has worked.
Usually floating problems are a result of poor water quality, overfeeding, poor quality food, or feeding dry pellets (without soaking them first) to sensitive fancy goldfish. In these cases, a few meals of frozen peas or daphnia – even a simple 3-day fast – will have your goldfish swimming just fine after a week or two.
But if your goldfish has a real swim bladder disorder (not just a floating problem that is mistook as swim bladder disease), green veggies or a few days without food won't solve the problem.
Some goldfish are naturally born with poor swim bladders or genetic swim bladder disorders, while other goldfish slowly develop a swim bladder disorder as they age. In any case, your goldfish won't be able to compete for food with vigorous tank mates around.
Your goldfish may need a little extra help.
Save the Day with a Goldfish Harness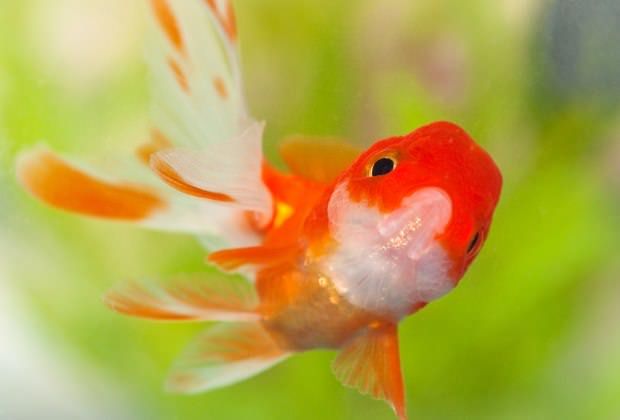 A goldfish harness is useful when your goldfish has a permanent swim bladder disorder and can't get to food during feeding time; it will help your goldfish swim to the surface and go places he couldn't normally go.
Your goldfish will still swim slower than the rest of his tank mates, even with the help of a fish harness. And you still may have to hand-feed your goldfish to help him eat.
Some goldfish enthusiasts make goldfish harnesses with soft cloth, while others prefer airline tubing, beading string, and a rubber ring.
A hand-made goldfish harness does have its problems though.
A goldfish harness can easily rub against scales and skin. Each time the harness rubs against your goldfish's body, it is scraping away the slime coat and irritating the skin. Too much irritation can create wounds and sores. Lumps may form and attract all kinds of goldfish diseases, which could then do serious harm to your goldfish.
You can combat that problem by sprinkling a little aquarium salt into the tank to help your goldfish rebuild his slime coat and fight against infection. You should also only use the goldfish harness occasionally (like during feeding time, taking the harness off in the afternoon or at night).
Of course, another solution is to not use a goldfish harness at all and instead keep your goldfish separated in a 20-gallon tank (to reduce stress from tank mates) and hand-feed your goldfish. Your goldfish will still be quite happy and live comfortably, as long as water conditions are met.
In fact, many goldfish have been known to survive for years even with a swim bladder disorder.
How Do You Solve Swim Bladder Disorder?
Have you tried making a goldfish harness? How did you craft it? What materials did you use? How did you combat the peeling-slime-coat problem? Did the goldfish harness help your fish with swim bladder disorder? Did you still have to hand-feed your goldfish?
Feel free to post pictures of your beloved pet in a goldfish harness!