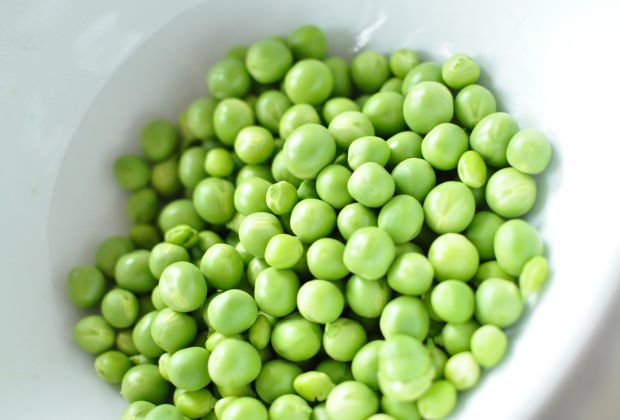 Goldfish need vegetables in their diet.
Without the leafy greens they crave, goldfish can develop nutritional deficiencies down the road. If you continued to give your goldfish just protein snacks, they'd become sick and lethargic, even flipping upside down.
Fancy goldfish especially are known for their swimming problems.
These fish have bulky bodies and tightly packed organs. Because of the distorted arrangement of their swim bladder and digestive tract, fancy goldfish aren't strangers to constipation. If you have a floating-sensitive fish, your goldfish would appreciate more fiber, pre-soaked dry pellets, and a varied diet.
What better way to give your fish the nutrients they need than by feeding goldfish peas?

Why Feed Green Peas to Goldfish?
Two reasons.
Unlike this vegetable, green peas sink when placed under water. Sinking goldfish food is especially important for sensitive fish because they won't have to search for food at the water surface… and suck in air bubbles while they're at it.
Green peas are especially rich in fiber. According to this article, one cup of peas contains 7 grams of dietary fiber. That's more than broccoli (2.4 grams), lettuce (1 gram), and spinach (0.7 of a gram) combined.
Fiber helps goldfish prevent constipation (and other known symptoms of swim bladder problems).
You might feed your goldfish a stable diet of dry and freeze-dried food, but without fiber from fresh vegetables, your goldfish might develop a blockage in the digestive tract. This blockage can cause your goldfish to lose equilibrium, have difficulty swimming, and even swim upside down!
Prevent Constipation By Feeding Goldfish Peas
Many goldfish hobbyists believe that green peas help push trapped air and food blockages from the digestive tract.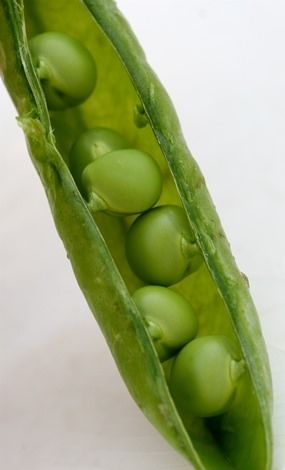 The fact remains that without enough fiber, your goldfish will not be able to release waste after a feeding. This waste buildup can cause serious harm.
Goldfish are ravenous eaters and often poop out buckets. Without enough fiber to help bowel movements along, waste that your goldfish are constantly developing will get stuck and put pressure on the swim bladder (source). This pressure will prevent the swim bladder from inflating and deflating as it should. This causes goldfish to swim erratically.
Fancy goldfish with egg-shaped bodies are especially sensitive to swim bladder problems because of how their internal organs are positioned in the body. Often these organs are compressed to make up for their round body shape. The slightest blockage can put pressure on the swim bladder and prevent fancy goldfish from swimming properly.
At the same time, too much fiber will prevent your goldfish from absorbing important nutrients into the body (source), so it's best to find a balance.
Fresh peas are very high in fiber, so they're particularly effective for treating constipation (over other vegetables).
Feeding goldfish peas occasionally can prevent constipation, but don't overdo it. We'll talk about how many peas to feed (and when) later in this article.
While fresh peas can solve some floating problems, feeding goldfish peas won't heal genetic swim bladder disease or permanently damaged swim bladders. Peas also won't cure bacterial infections that may cause swim bladder problems. Feeding goldfish peas will only treat floating problems related to constipation.
Feeding Peas to Goldfish: A Step-By-Step Guide
Constipation can easily be prevented with a quality nutritional diet.
In this section we'll take a look at how many peas to feed and how to prepare fresh peas before feeding time, including a step-by-step guide on feeding goldfish peas.
How Many Peas and How Often to Feed?
You know what they say…
A green pea a day week keeps the doctor away.
Green peas work great as a preventative against constipation, treatment for constipation, or nutritious snack. But you don't want to go overboard. Too many peas will prevent your goldfish from absorbing some important nutrients they need to stay healthy.
If you're…
Treating constipation: Feed your goldfish a sole diet of peas daily for 3 days. If your fish are still constipated, you can continue feeding goldfish peas for 2 more days. If peas don't solve the problem after 5 days, it's likely that your goldfish aren't constipated (and are suffering from poor water quality, a bacterial infection, internal parasites, or permanent swim bladder damage). When feeding goldfish peas, only feed 2-3 peas per goldfish. Young goldfish can receive half this amount. After treatment, resume your goldfish's regular diet (and go easy on the feeding from now on).
Preventing constipation: Feed goldfish fresh peas once per week to keep fiber levels up. Also include fresh vegetables twice per week for a well-rounded diet. Vegetables should be fed to supplement your goldfish's stable diet of dry food. Fancy goldfish sensitive to swim bladder problems may also benefit from one day of fasting every week. Feed 2-3 peas per adult goldfish. Half this amount for younger goldfish.
As with any food you give your goldfish, too much of a good nutrient can be harmful. Striking a balance is key for long-lasting goldfish that thrive.
But don't worry. If you follow the recommendations in this guide, you shouldn't run into problems.
Let's walk through the steps.
Step 1: Buy Fresh Peas from the Store
There are several varieties of peas you can feed to your goldfish. Each kind has its own nutritional value.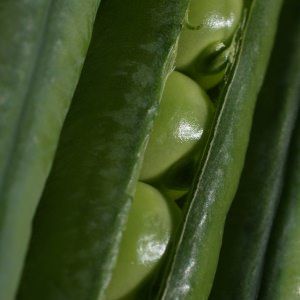 Garden peas – Garden peas are the most common variety found in stores. They may need to be chopped up for younger goldfish to consume.
Snow peas – Snow peas are also called sugar peas and are very sweet. They're pretty small, so it's a lot easier to break them into bite-sized chunks.
Snap peas – Snap peas are also sweet, though they're about the size of garden peas. Snap peas may need to be chopped before feeding.
Frozen peas – Frozen peas are a great alternative to fresh vegetables. You'll need to thaw them out or run them under hot water though.
Split peas – Split peas are bought dried, peeled, and split into two halves. While split peas need to be soaked in hot water (step 2), you can skip step 3 and step 4 in this guide.
Canned peas – Canned vegetables are very high in sodium. Unless you buy all natural canned peas without added preservatives, I wouldn't recommend them.
Goldfish aren't fussy. They could care less what kind of peas you give them. You don't even have to buy them organic.
Don't buy seasoned peas for your goldfish though. Spices will make your goldfish sick and could cause serious harm.
My personal favorite is frozen peas. They're easy to keep, easy to prepare, and can stay in your freezer for several years.
Step 2: Soften Green Peas for Consumption
Before feeding goldfish peas, remove peas from the pod if you bought them attached.
Now let's prepare the meal.
You can soften peas one of three ways.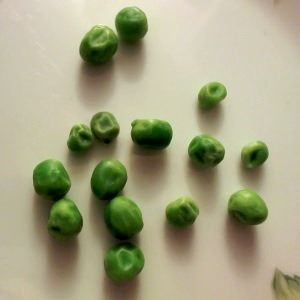 Rinse your peas off with warm water. This method works great for frozen peas. Simply rinse frozen peas off with warm water for 15 – 30 seconds. This will soften them just enough for your goldfish. You can then let the peas defrost on a plate or napkin (if you need more time) before commencing to step 3.
Place fresh peas into the microwave. This is the fastest method to soften fresh peas. Take a microwave-safe bowl and fill it partly with water. Plop in the peas and microwave them on high for 30 – 60 seconds. Take the bowl out and place the peas on a plate to cool off. Wait a couple minutes, then move to step 3.
Boil fresh peas on the stove top. This method may take longer but is the most effective. Fill a pot partly with water and let the water come to a boil. Drop fresh peas into the pot and reduce heat. Boil the peas for 1 minute before pouring them into a strainer to cool off. Alternatively, you can replace the hot water with cold water instead of using a strainer. Let the peas cool for a couple minutes before moving to step 3.
The trick here is not to soften the peas so much that they're mushy but just enough so that your goldfish can digest them easily.
If softened just right, the peas should not cloud the water during feeding time.
Step 3: Remove the Skin before Feeding Goldfish Peas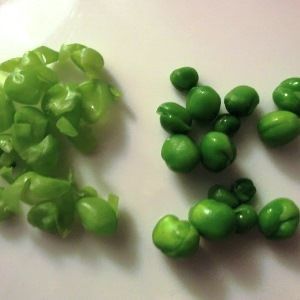 The thin skin around green peas can make your goldfish choke. That is, if it doesn't get stuck on the roof of the mouth first.
Remove the skin by either…
Tearing off the skin: With your fingers, tear a small hole into the skin. This hole can then be used to peel off the remaining skin from the pea. Do this for every pea you plan to feed your goldfish. Discard the skin.
Squeezing the skin: Pinch a corner of the skin and the weight of the pea should help it slide out smoothly. Be careful though; if the insides are too soft, your peas might turn to mush. Complete this process for each pea, then throw away the skin.
I personally like poking a small hole into the skin and then carefully unwrapping the skin from the vegetable. The pea will keep its shape this way. Then you can cut each pea into equal sections (step 4).
Step 4: Cut Fresh Peas into Two Halves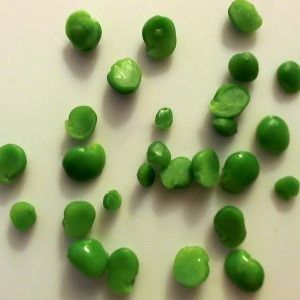 When you remove the skin from green peas, usually each pea will already be divided into two parts with (what would be) the stem of the seed curved along the center. Cut along this line so that each pea is separated into two halves.
You can now feed your goldfish immediately or make the food even easier to eat in step 5.
Sure, you can squish together both halves of the pea to condense it and make it smaller for feeding. But I find the process of feeding goldfish peas to be a lot cleaner if you instead take the time to cut each pea into bite-sized chunks.
Some fish enthusiasts like feeding goldfish peas the second the peas are removed from the skin. However, your goldfish might have a better time enjoying the meal if you cut them up first. Your goldfish will be able to eat fresh peas quickly and the food won't hang from their mouths while they munch.
Step 5: Slice Each Pea into Smaller Chunks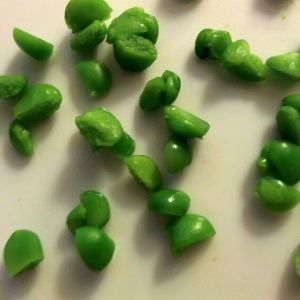 Do this especially for young goldfish that can't fit a whole half of a pea in their mouths.
Cut every chunk (that you created in step 4) in half. Each pea should now be separated into 4 small chunks – a nice size to be easily digested.
I find that goldfish are able to eat these smaller chunks more easily than a whole pea. You can even further slice up each pea for smaller fish, though it may not be necessary.
Now you're ready to feed the newly prepared meal to your goldfish!
Open the aquarium cover and sprinkle in a few chunks at a time. You should only feed 2 – 3 peas per adult goldfish (1 – 2 peas for younger fish).
An hour after feeding goldfish peas, check the substrate for uneaten food and remove them from the gravel (either with a siphon during a water change or a net).
Put leftover peas you didn't feed into the freezer. You can defrost them and feed them to your goldfish next time.
Your Goldfish Aren't Eating Peas?
Peas quickly sink to the substrate. If your goldfish have buoyancy problems, they likely won't be able to get to the peas for feeding.
You can solve this problem by gently holding your goldfish and hand feeding.
Or, you can pick up a few clean toothpicks and push the opposite end of the pick through a whole pea or half a pea. Then hold the toothpick near your goldfish's mouth for easy access. Make sure you don't feed your goldfish with the sharp end – you don't want to accidentally hurt your fish!
Live, frozen, or freeze-dried daphnia can be fed to your goldfish instead to treat constipation if you have daphnia on hand.
Remember: fiber-rich foods are only solutions for goldfish suffering from constipation. Damaged swim bladders are permanent (there isn't a cure). Floating problems caused by bacteria, internal parasites, or poor water quality require their own special treatments (and can't be treated by feeding goldfish peas).
Are You Feeding Goldfish Peas?
What types of peas do you feed? How do you prepare your peas for feeding? What other steps do you take before feeding goldfish peas? Have peas worked for you in the past?
What tricks do you use to cure constipation?
Share your experiences. Post tips or feedback in the comments below!