Decorate your aquarium with 10 large aquarium decorations. The gorgeous detail and large size of these tank ornaments make them perfect for a goldfish tank, where big aquariums are the norm.
Not only are they aesthetically pleasing, but they're also made from high-quality materials and very safe for your goldfish. These large aquarium decorations will last for years. You'll never have to deal with chipping paint or cloudy water.
I recommend at least 30 gallons of aquarium water for the ornaments listed, since many of these ornaments are too big for smaller aquariums (and really, your goldfish tank shouldn't be any smaller than 20 gallons anyway – see my goldfish tank guide). Sizable dimensions mean more hiding spaces for your goldfish. Many large aquarium decorations even include bubbling air stones for increased surface agitation (much needed for healthier aquarium water).
Greek Sanctuary Ornament from Top Fin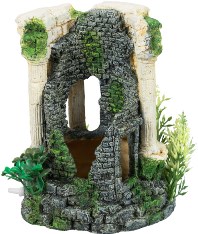 This elegant 5-inch wide and 7-inch high (5-inch diameter) Greek sanctuary ornament is breathtaking! If the incredible detail on the bricks and columns doesn't make you drool, surely the ample hiding spaces for your goldfish will. Capture the Greek ruins in your aquarium with highly photogenic realism and give your goldfish a very durable piece to explore. This large fish tank ornament is glowing with positive reviews.
I have a 5″ Synodontis and he has claimed this as his home. When I lifted the decoration out of the tank he tried to swim up with it. He didn't want to give it up. – Gryph70
Exotic Cambodian Rock Face Ornament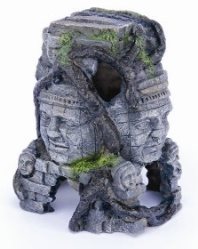 This gorgeous Cambodian rock ornament is 6 inches long, 6 inches wide, and 7.5 inches high, perfect for a 10-gallon aquarium (or larger!). The intricate detail of each rock face will take your goldfish back to ancient times, where there are plenty of crevices and holes for smaller goldfish to hide in. If you want a realistic piece for your freshwater aquarium, this ornament will definitely fit the bill.
Very nice accent piece. Just the right size for my 3-4″ cichlids, and the color contrast with faux greenery is good. Very well rendered. – J. Valk
Intricate Barrel Aquarium Ornament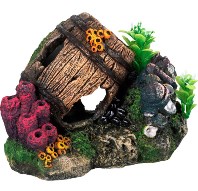 One of many beautiful large aquarium decorations, this resin barrel ornament looks great in 20-gallon aquariums (or higher). It's 8 inches wide, 5 1/2 inches high, and 5 inches in diameter. With its built-in air stone and calming air of tranquility, bubbles appear to flow right out of the barrel and help keep your goldfish tank well oxygenated. Hiding places are only large enough for smaller goldfish though.
My goldfish love to sit in there while my algae eater sticks to it. Great decoration! My fish have been in there since I put it in. – CrispySteze
Delightful Wooden Cabin Aquarium Ornament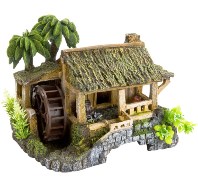 Realistic cabin ornament creates a soothing environment for your goldfish tank. Standing 9 inches high, 10 inches wide, and 12 inches long, this large aquarium ornament looks beautiful in 20-gallon tanks or larger. Only smaller goldfish will be able to explore the mossy steps and clay pots on this bubbling beach hut. But the decoration will definitely remind you of those warm summer afternoons. Built-in air stone turns the wheel for nicely oxygenated aquarium water.
Saw this item when I was looking for a new air pump and had to have it. Hooked up the water wheel to the new air pump and watched our fish and aquatic frogs explore their new digs! – barnmaster
Enchanted Castle Aquarium Ornament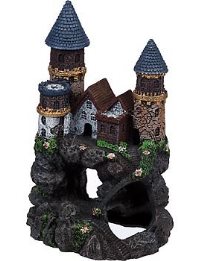 Create a bewitching atmosphere in your goldfish tank with this lovely enchanted castle ornament. 5 inches long, 4 inches wide, and 8 inches high, this ornament is one of many large aquarium decorations that look great in 10-gallon aquariums and larger. Smaller goldfish will enjoy snooping through holes along the rocky cliff as they explore a magical land of warlocks and wizardry.
I've gone off the deep end. But this is one in a whole series of aquarium decorations I've purchased. This one is the best, most sturdily constructed, artfully decorated and architecturally challenging and comforting to the betta.
Realistic Castle Ornament with Drawbridge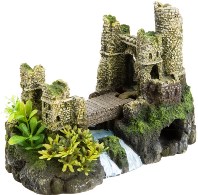 If you're looking for large aquarium decorations, you don't have to look far. Your goldfish will enjoy ruling over his subjects with this stately castle ornament. This ornament is 9 inches long, 6 1/2 inches wide, and 4 inches high. The beautiful drawbridge complements each brick on this elaborate castle fit for royalty. Bubbling air stone keeps the water healthy and well-oxygenated for rambunctious goldfish.
The castle has a good sized opening on the lower right-side that acts as a cave, if you do not use the airstone. This provides fish with a cozy spot to hide in if feeling unsafe or insecure. – FintasticReviews
Elegant Balinese Dragon Aquarium Ornament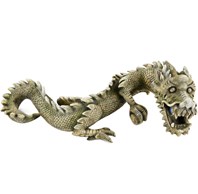 This beautiful Balinese dragon ornament might look menacing, but your goldfish will enjoy that he breathes bubbles and not fire. This gentle giant is 14.5 inches long and 7.5 inches wide and works great in aquariums that can hold 30 gallons and up. The dragon guards over all aquarium inhabitants and comes with an air stone embedded in its mouth for oxygenated water. Some hobbyists did have trouble getting the air stone just right though.
I purchased this dragon to add to my new cichlid tank and it is just as beautiful as the upright one that I purchased for my living room. My fish love it and so does my family and friends. This decoration has encourage my friends to but a fish tank as well. What an excellent focal point to add to a fish tank. – TraciT522
Asian Bonsai Aquarium Ornament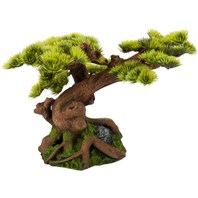 If your goldfish are shy, this Asian bonsai aquarium decoration will pull them right out of their shell. The bonsai tree stands tall with a realistic trunk overflowing with leaves and offers much-needed shade for your nature-inspired aquarium. The ornament is 12 inches long, 8 inches wide, and 7.5 inches high for 10-gallon aquariums and up.
I love this ornament. It is so beautiful and it really looks real. It makes the tank look great and it provides shade for some of the little fish. A must have. – Beansoup1999
Forgotten Cambodian Ruins Aquarium Ornament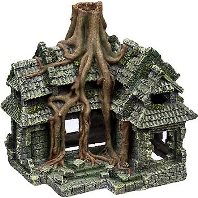 The detail on this Cambodian house ornament is simply beautiful. The ornament takes your goldfish back into history with dozens of hiding places for small goldfish to explore. Like the large aquarium decorations above, your goldfish will never be bored again with this 7.5 x 6 x 8-inch work of art. This piece is perfect for 10-gallon aquariums and higher. On the downside, bigger goldfish may not be able to fit through the holes.
Got this in the mail, was afraid it was going to be too big in our 10 gallon tank. Fits beautifully in the tank, we have it in there with a shipwreck. Looks very nice, and wasn't very expensive like most larger pieces. – Doreen M.
Ancient Greek Coliseum Ornament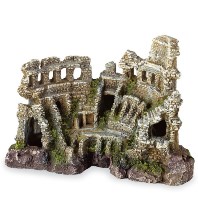 This Greek coliseum aquarium ornament is almost an exact replica and can be paired well with other large aquarium decorations. Not only is each stone crafted with surprising detail, but the ornament also includes an embedded air stone to keep goldfish healthy in oxygenated water. Your goldfish will love the natural stones and mossy hollows in which to hide in. The ornament is 12.5 inches long, 7.3 inches wide, and 8.3 inches high, perfect for 30-gallon aquariums or higher.
I put a pink light over the coliseum to brighten it up, and a blue light over the corner piece to tone the columns down. The fish and snails love both and the guppies love the foliage. – Megen
Take your pick of any of the above large aquarium decorations and you won't be disappointed!
Whether your aquarium is aquascaped with sweeping plants and foliage or floating driftwood and rocks, these highly realistic ornaments will turn your goldfish tank into an aquatic paradise. They're so gorgeous that many fish hobbyists use them as beautiful centerpieces in their aquarium.
Do You Buy Large Aquarium Decorations for Your Tank?
I'd love to hear from you! How have you used large aquarium decorations to enhance the beauty of your aquarium? Drop a comment in the form below and share your experiences with the rest of the goldfish community!