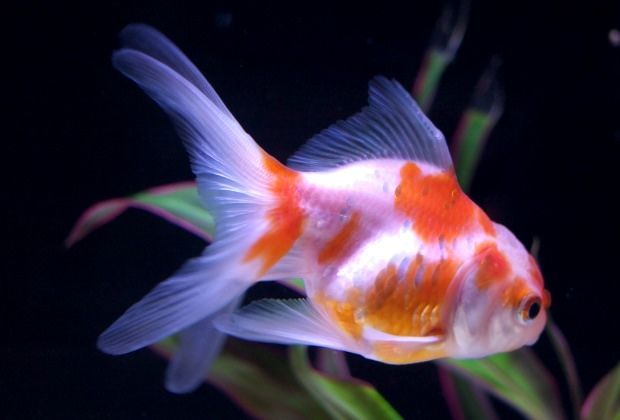 Ammonia burns, agitated gills, and deteriorating fins.
Poor water quality can impact your goldfish in a myriad of ways. Sometimes, your goldfish might be so out of shape to even wiggle off their bottoms to eat. And if the water gets too far out of hand, your goldfish may not recover.
Prevent problems before they start.

Like all fish, goldfish are sensitive to water chemistry – particularly the amount of ammonia, nitrite, and nitrate in the water. But unlike many tropical fish, goldfish can make such a big mess – and excrete so much waste – that the beneficial bacteria in your aquarium won't be able to handle it all without a good filtration system and regular water changes.
Aquarium test kits are so easy to use, yet so very crucial, it's amazing how many hobbyists skip this one vital step.
How Do Aquarium Test Kits Work?
The water may look clear, but that doesn't mean it's safe for your goldfish. In fact, the water could be burning your goldfish's gills and you wouldn't even know it!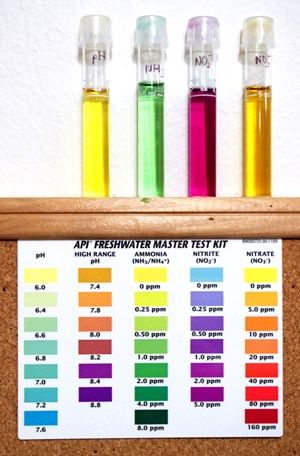 Unless either the water became so unbearable to reveal visible signs of stress or you were using freshwater aquarium test kits on a weekly basis (which you should).
Providing a safe space for your goldfish isn't as simple as just filling a tank with tap water (treated with a water conditioner of course).
Dangerous toxins are often invisible to the naked eye. Aquarium test kits help you find problem areas before they do serious harm to your fish.
If you…
Suddenly start losing goldfish,
Notice signs of stress,
Or your goldfish become sick
…there might be something wrong with the water.
Not only do aquarium test kits help you find and prevent problems that could lead to serious goldfish diseases, you can watch the nitrogen cycle in real time when you first set up a new tank. In fact, testing for ammonia, nitrite, and nitrate is the only way you'll know whether your aquarium is fully cycled (and if you can add goldfish safely).
You don't even have to know anything about water chemistry before testing water quality. No, really.
Aquarium test kits aren't complicated – at all!
So Many Choices! Which Test Kit to Buy?
Inexpensive and long-lasting, freshwater aquarium test kits can save you a lot of trouble.
And if you ever get tired of buying different kits for each water parameter, you can pick up a freshwater master test kit that includes everything you need to test multiple parameters at once (saving money over the long run).
From test strips to liquid test kits, there are many types on the market. How are they different? Let's take a look.
Water Test Strips (Dip Sticks)
If you're constantly running errands or work around a busy schedule, you'll love the convenience of these aquarium test kits.
Water test strips are easy to use, providing results in literally minutes. Because they only require a quick dip in aquarium water, they're especially popular with children and first-time fish owners.
On the flip side, test strips can lose accuracy when exposed to air moisture. You may also pay more for the convenience.
Water test strips are simple to use, making water testing both fun and easy – especially for children!
Just quickly dip a strip into your aquarium water and wait for the results. Depending on the brand, it might take a minute or two. After colors develop on the test strip, compare the results with a chart that's included in the kit.
---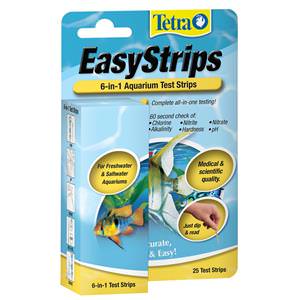 Tetra EasyStrips (6-in-1 Test Strips) makes water testing painlessly easy. Designed for busy folks with hectic schedules, Tetra EasyStrips saves you time by testing multiple parameters at once.
Determine the health of your aquarium water with minimal effort. With just a quick dip of the test strip, you can receive accurate results in as little as 60 seconds.
Easy-to-use test strips include six common tests: chlorine, nitrite, nitrate, general hardness (GH), carbonate hardness (KH), and pH. With 25 or 100-strip packages, you can test each parameter up to 100 times.
Looking for ammonia test strips? They can be purchased separately.
---
Air moisture is one of the main reasons for inaccuracy. Avoid touching the test squares and always keep water test strips in a dry, air-tight container.
Liquid Test Kits
Known for their accuracy, these aquarium test kits use liquid reagents to test aquarium water. They're a great alternative if you want to save a little money and don't mind the extra preparation time.
Liquid test kits can be more reliable than water test strips. Each kit also offers plenty of testing solution for hundreds of tests, and you only have to wait a few minutes for results to show.
More difficult to use with a longer preparation time, liquid test kits can be overdosed. Discolored water may also tamper with results.
To test, simply fill a vial with aquarium water (don't worry, your freshwater aquarium test kit will come with one!) and drip the testing liquid into the vial, following the instructions in your kit.
Certain parameters will require a specific number of drops of the testing solution. For other tests, you may need to give the vial a quick shake to mix the liquid. Once results develop, you can then compare them on a chart included with your liquid test kit.
---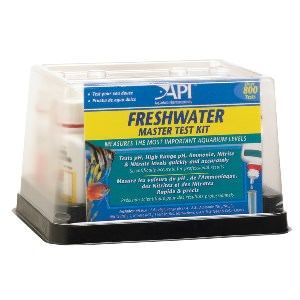 A complete kit for testing the most vital water parameters, API Freshwater Master Test Kit offers over 800 highly-accurate tests in a single kit.
Equipped with everything you need to monitor water quality, this master test kit comes with a laminated color chart for easy color comparison, a holding tray for convenient storage, and four test tubes with snap-tight lids. A transparent dome protects your testing supplies from water damage.
An instruction booklet is also included, with detailed step-by-step directions on how to perform each test and correct problem areas in your aquarium.
Liquid solutions test for pH, ammonia, nitrite, and nitrate.
---
To prevent problems, fill the vial exactly where the line indicates. And follow the instructions exactly as they appear in your instruction booklet.
For most aquarium test kits, shelf life can range from 6 months to 2 years (sometimes even longer). Make sure you pay careful attention to the expiration date and replace testing supplies once the expiration is reached (or your results might not be accurate!).
It helps to keep a record of your test results, so you can compare them later to previous tests. Then you have a constant visual of how the water chemistry is improving in your aquarium (and can make changes if you aren't seeing good results!).
Water testing may seem daunting at first. But aquarium test kits make actual testing very simple, even for a complete beginner! You'll get the hang of it in no time and, trust me, your goldfish will be happier for it.