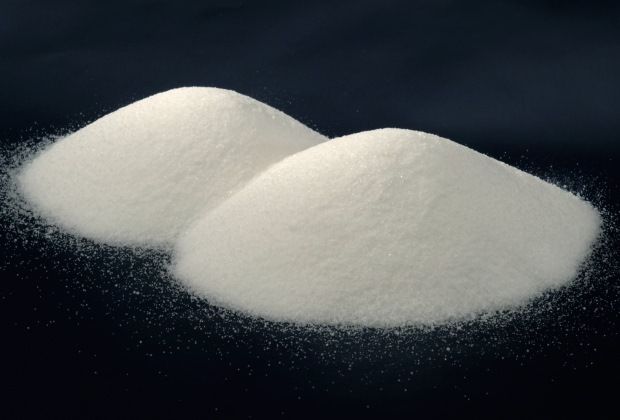 "Water, water everywhere and not a drop to drink."
You probably know this quote from The Rime of the Ancient Mariner. A man is adrift on the ocean, water as far as the eye can see and yet dying of thirst because people can't drink salt water.
Tough break.
But for goldfish, freshwater aquarium salt (when used effectively) can provide many benefits. Too much, of course, and you'll do more harm than good – just like with any substance that is overdosed.

Already know the benefits? Skip to the aquarium salt treatment guide to determine how much salt to put into your aquarium
But if you're new to salt treatments, the very concept might sound ridiculous. Why on earth would you add aquarium salt? After all, goldfish are freshwater fish.
Why Salt Is Good for Goldfish (Not So Much for Humans)
Actually, adding salt to a freshwater tank isn't too unheard of. Not at all.
You might already know that salt reduces stress. You've probably heard that salt treats parasites, even. But one benefit that isn't often talked about is osmoregulation.
The cells in your goldfish contain a specific salinity (or salt and water balance). At every moment, small traces of salt trickles back into the water from your goldfish's body. To keep up with this, your goldfish have to constantly reabsorb small amounts of salt from the environment.
Luckily, aquarium water naturally provides some salt – though the amount of salt in a freshwater aquarium is much smaller than the salt density in a saltwater aquarium. And rightly so, because too much salt could seriously hurt – even kill – your goldfish!
But by adding a small amount of freshwater aquarium salt during stress, you're boosting the salinity in your aquarium just enough to make things easier for your goldfish. This can have all sorts of benefits.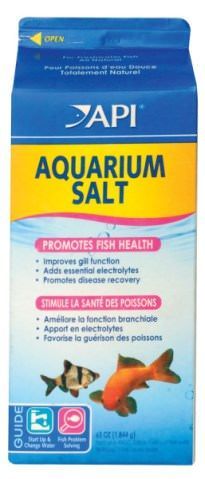 Freshwater aquarium salt reduces stress. Some goldfish diseases can stop the gills from functioning properly. If your goldfish don't absorb enough electrolytes from the water (because they're under stress), they could go into an osmotic shock. Salt replenishes much-needed electrolytes, helping your goldfish maintain a healthy flow of oxygen and carbon dioxide.
Aquarium salt helps goldfish recover faster from infections. When small amounts of aquarium salt are added, your goldfish don't have to work as hard (or absorb as much water) to maintain the salt density in their bodies. Your goldfish actually save more energy to fight off diseases and heal painful scrapes – very much like how rest helps you and me recover from nasty colds.
Aquarium salt kills off parasites. Freshwater aquarium salt disrupts the salt/water balance in the cells of harmful organisms, dehydrating them until they let go of your goldfish and eventually die off. For this reason, salt baths are particularly effective treatments for parasite infections.
Freshwater aquarium salt prevents nitrite poisoning. If your filter suddenly stops working or you've just set up a new tank (that isn't fully cycled), nitrite levels may spike – and nitrite poisoning can be deadly! Chloride ions in aquarium salt reduce nitrite absorption, preventing nitrite poisoning when nitrite levels are high.
Some invertebrates (like snails) and plants are very sensitive to salt. And if your aquarium uses zeolite to cut down on ammonia, effects may be reversed during a salt treatment. Always remove sensitive invertebrates and zeolite before adding any type of salt.
Freshwater aquarium salt can be used as a preventative to help keep your goldfish healthy or as a treatment to cure common goldfish diseases (especially when parasites are to blame).
But what type of salt should you use? Let's look at your options.
Keeping Salt Goldfish Friendly: 3 Types of Freshwater Aquarium Salt
Some salt (like table salt) can be bad news for goldfish. Luckily, you're not just limited to table salt.
Adding salt regularly? Aquarium salt is a good choice. But if you want to keep your options open, rock and kosher salt are healthy alternatives.
Freshwater aquarium salt is quite different from the salt you keep in your kitchen cabinet. Created from evaporated sea water, this salt contains no harmful additives like table salt and is specifically made for freshwater aquariums. Plus, you can buy it from any pet shop where fish are sold.
Non-iodized rock salt and kosher salt are made up of just sodium chloride (unlike table salt that can contain iodine and calcium silicate). No extra ingredients are added, making these types of salt great for goldfish aquariums.
When introducing salt to the aquarium, never use table salt that contains additives. Toxic additives and spices in table salt can be deadly to goldfish.
Aquarium salt is a powerful tool against stress and parasite infections. But don't overdo it!
Like all freshwater fish, goldfish can only take so much salt before it becomes harmful. When performing a salt treatment, keep an eye out for signs of stress. Reduce treatment or stop treatment altogether if your goldfish seem agitated.
Do You Treat Your Aquarium with Salt?
What type of salt do you use? Do you regularly add freshwater aquarium salt as a preventative or only as a treatment when you notice signs of stress?
Add your suggestions to the comment field below!