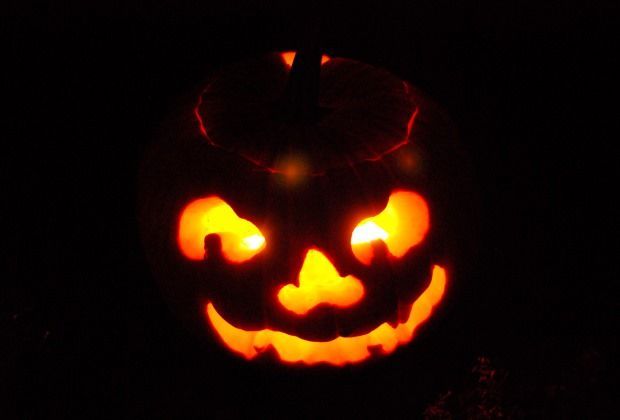 Halloween is a couple weeks away. On October 31st, millions of people will dress themselves in scary costumes. Children will walk house-to-house brandishing pillow cases and plastic bags, their faces alight with sweet-tooth-filled grins.
If you celebrate Halloween, you've likely covered every inch of your house with ghosts, ghouls, and creepy crawlers. I wouldn't be surprised if you already had jack-o-lanterns gracing your front doorstep.
Why not deck your tank with scary aquarium decorations?

Finding scary aquarium decorations specifically for Halloween isn't easy. Many pet stores don't bother to carry Halloween fish tank decorations because the holiday only lasts one day of the year.
But that doesn't mean you can't get creative.
Scary aquarium decorations abound with laughing skulls, haunted castles, and dark themes. You can make your aquarium a sight to behold, grabbing attention the second you whip out that bowl of sweets.
4 Halloween Theme Ideas Using Scary Aquarium Decorations
While Halloween fish tank decorations are limited, you can combine creativity with ingeniousness to build a creepily dark theme with scary aquarium decorations.
In this article, we'll look at substrate, plants, driftwood, skulls, haunted castles, and spooky caves.
But don't feel limited to just these. Experiment and create your own aquarium theme worthy of bone-creaking knee shaking.
Dark Aquarium Substrate
Both aquarium lighting and substrate can set the mood for Halloween.
You'll want to use dark tints and Halloween colors to give your aquarium the adrenaline rush you're looking for. At the same time, you don't want to include substrate that is too harsh or too small.
Black, orange, and grey are all great colors for Halloween. You can include solid black substrate or mix and match the colors to add variety.
Halloween-Themed Foliage
In this section we'll take a look at plastic plants and driftwood that will help create a spooky environment for your goldfish.
Plastic plants colored in orange, peach, or red shades also look great on Halloween. Positioned properly, dark driftwood and bright aquatic plants can work together to create an unnerving, almost supernatural atmosphere in your aquarium.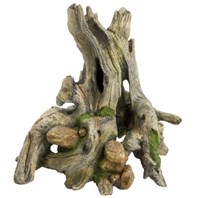 Driftwood adds a nice touch among other Halloween fish tank decorations. The natural-looking wood atop mossy rocks will have your goldfish feeling as though they've just explored an aquatic graveyard. This driftwood is made out of polyresin, providing your goldfish with much-needed hiding space whenever they want to escape from ghosts and ghouls.
You can compliment driftwood with orange and red plants, typical Halloween colors. Add a bit of green or even an underwater forest and these plants will make the darkest corners stand out.
Keep in mind that goldfish like bumping against things. They especially love nipping on edible-looking foliage. So choose plants and scary aquarium decorations that don't have sharp edges that could easily scrape against your goldfish.
Creepy Skulls and Skeletons
Halloween isn't complete without the maniacal grin of the undead.
You can give your aquarium a pirate-like atmosphere and include pirates with eye patches, treasure chests, and even sunken ships. Some scary aquarium decorations even come with built-in air stones to keep the water well oxygenated.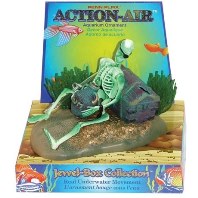 This Skeleton raises and lowers his jug of rum as bubbles escape around him, keeping your aquarium well-aerated for Halloween. Air pump and airline tubing aren't included, so you'll need these to make the built-in air stone work.
Because Halloween aquarium ornaments aren't commonly supplied, skeletons and pirates are often used to replace witches, ghosts, and pumpkins. In fact, you can mix and match most pirate decorations with your Halloween theme and still create great results.
No matter which scary aquarium decorations you buy, keep an eye out for quality. You don't want to accidentally purchase poorly made ornaments. Poor quality products will easily break or cloud the water with harmful chemicals.
If you're an avid online shopper, finding quality scary aquarium decorations might be as simple as reading reviews. Disappointed shoppers will often leave negative reviews, so always weigh the pros and cons before making a purchase.
Spooky Caves and Haunted Castles
Haunted castles and caves can definitely create a disturbing air. You never know what could be lurking in those dark crevices! The mystery won't stop your goldfish though. If anything, they'll enjoy exploring the unknown.
Caves and castles, even haunted cabins, work great in dark Halloween themes. Often these types of decorations will have dark holes and pits your fish can escape into. Since goldfish can grow over 6 inches, you might have to shop around to find scary aquarium decorations with holes large enough for your goldfish.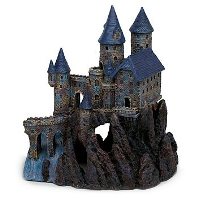 This haunted castle boasts dark colors and includes plenty of holes for small goldfish to unravel its mysteries. The castle suggests a realm of magic and enchanting beauty filled with witches and wizardry.
You can compliment your haunted castle with blinking lights and purple plants that will enhance your enchanting-magic theme. If you're interested in dark and eerie, there are sunken ships, rotten bridges, and rock clusters you can include to create a more haunted look.
Putting tank ornaments into your aquarium for the first time? Rinse them off with hot water first. Some tank decorations conceal dust particles that will cloud your aquarium water.
You can even clean scary aquarium decorations by boiling them in a hot pot for a few seconds. Quickly rinsing out decorations with hot water will help remove excess dirt that can accumulate during shipment.
Love the new haunted aquarium theme? You don't have to pack everything up after Halloween. You can keep your theme year round, create a pirate theme with skeletons and treasure chests, or establish a fantasy world where magic reigns supreme.
Whatever you decide, have fun with it. Add spider webs to the corners of your tank or place a few spiders across your aquarium hood. Tape on cutouts of witches and ghosts. Make decorating the aquarium a family activity.
Jennie Connelly does a great job on her aquarium. Just watching her video will give you all kinds of creative ideas.
Goldfish Love Treats Too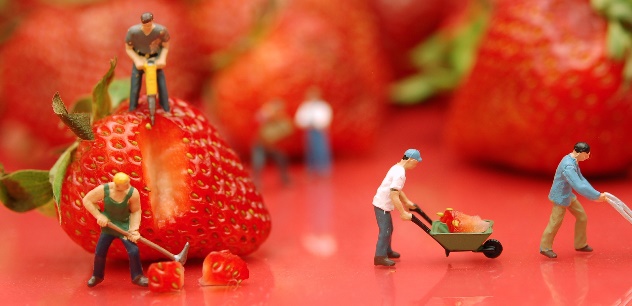 Now that you've dressed your tank with scary aquarium decorations, let's celebrate the occasion with tasty goldfish treats!
You can…
Feed Your Goldfish Fresh Fruit
Fruit can be a great source of vitamin C. Goldfish enjoy fresh bananas, oranges, grapes, or berries.
Always…
Chop fruit up into small clumps before feeding
Remove the skin from fruit
Remove embedded seeds
Feed in small amounts
If you're not sure which fruits to feed, you can even make a fruit salad of sorts with chopped up grapes (remove seeds and skin), diced bananas, and several different types of berries. Put any leftovers in the freezer, and make sure you sweep the gravel with a water siphon to get rid of uneaten food. I like to feed fruit an hour or two before a scheduled water change.
Since many fruits are high in sugar, I'd only recommend feeding fruit once or twice per month if you want to make it a regular routine.
Treat Your Goldfish to Vegetables
Goldfish will enjoy vegetables like frozen peas, green beans, lettuce, spinach, or zucchini.
Make sure you…
Never add spices to vegetables
Remove the skin from vegetables
Soften vegetables by slightly boiling or freezing them
Never soften vegetables too much or they'll cloud the water
You can add veggies to the diet once or twice per week. Vegetables like green peas are even recommended to treat buoyancy problems.
Any special treats you give your goldfish should be fed in moderation. Goldfish will enjoy fresh food in their diet, but don't go overboard. Feed your goldfish fruits and vegetables occasionally to supplement their stable diet of dry food.
Once you're done feeding, be sure to clean up any leftover pieces that your goldfish didn't eat or you might end up with a water quality problem later on.
How Will You Celebrate This Halloween?
Any Halloween decorating tips? Which scary aquarium decorations have you used?
Publish your creativity right here on this website for the world to see. Simply upload a photo on TinyPic (a free image uploading service) and post the link in the comments below or email me a link to your photo, and we'll publish your haunted aquarium theme and scary aquarium decorations right here on this page.
Good luck decorating!