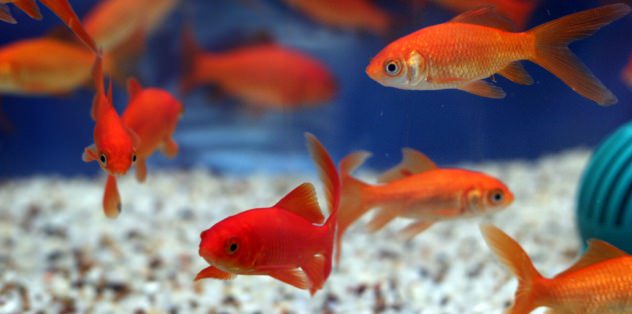 Why goldfish?
There are both pros and cons of raising pet goldfish. But while caring for goldfish can have some amazing and wonderful advantages, you need to keep up with a routine cleaning and feeding schedule for proper goldfish care. You also need to prepare your aquarium first before actually introducing your goldfish to their new home. This includes buying a good-sized goldfish tank, along with aquarium decorations and plants.
In the end, if you take the time to really learn the fundamentals of goldfish care, you'll understand why goldfish make such great pets and your aquarium will quickly become the highlight of any room.
Dive In: Why Goldfish Make Great Pets
Goldfish are captivating, with their many arrays of colors and completely unique personalities. Since you're here, you're probably thinking about buying a goldfish at some point.
But why goldfish? Why should you raise these colorful freshwater fish and how can you make the most of them?
Let's take a look.
Goldfish are easy to maintain. You don't need to take sick goldfish to the vet. Your goldfish won't go on a barking frenzy and wake the neighbors. Your goldfish don't even need routine walks around the block in freezing cold weather. When you go on vacation, you don't need to hire anyone to look after your fish – there are automatic feeders just perfect for those long getaways. In fact, goldfish don't even need a heater unlike most tropical species who depend on warm water temperatures to thrive. And unlike the betta, goldfish aren't fussy eaters and will eagerly gobble up anything you throw into the aquarium (though it's up to you to give your fish quality, nutritional food). What's not to love?
Goldfish are cheap and available everywhere. I don't know of a pet store that doesn't have at least one goldfish for sale. Goldfish are everywhere! And some goldfish, feeder fish mostly, are priced as low as 50 cents. And a majority of fancy varieties only cost a couple of dollars! Though you'll need to buy the appropriate aquarium equipment, caring for goldfish isn't nearly as expensive as raising other pets. In fact, their affordable price is one reason why goldfish are found in so many homes across the globe.
Goldfish aquariums can reduce anxiety and lower blood pressure. Stressful day at work? Why not set up an aquarium? Studies have shown that there is a noticeable decrease in anxiety when in the presence of an aquarium (source 1 and 2). Even by setting up a goldfish tank without adding any fish, you can experience calm and tranquility (though the effects are reduced compared to an active aquarium with goldfish). This is one of the reasons why goldfish are found in large aquariums situated at the very center of many waiting areas.
Watching goldfish can improve your appetite. According to this Purdue University study, exposing yourself to an aquarium can increase your food consumption by 17%. So if you've lost your appetite or you're having trouble eating, goldfish can help with that! This same report states that keeping an aquarium can also make you feel more relaxed and alert.
Keeping goldfish is a wonderful learning experience. Teach your children the importance of goldfish care and how to raise fish of their own, including how much to feed and when to change the aquarium water. By raising goldfish, children learn responsibility and discipline as they maintain the aquarium and keep up with feeding. Caring for goldfish can be so fun and rewarding, it's hard not to see why goldfish offer a great learning experience for children. Encourage creativity when setting up the tank for the first time, and let the imagination run wild! Make maintaining the goldfish tank a family event and the whole family will come closer together.
Goldfish inspire creativity. How many aquariums have you seen that looked exactly alike: same tank setup, same species of fish, same aquarium plants and ornaments? Most likely, none! No two goldfish tanks are exactly alike, just like all aquarium fish behaviors and habits are unique in their own little way. And there are simply so many goldfish types to choose from, with breathtaking arrays of colors and shapes. In fact, a goldfish aquarium can look particularly stunning in a dark, gloomy room.
You can make money with your fish keeping hobby. While I only recommend this for advanced goldfish hobbyists, you can breed your goldfish for desired traits and sell the results on eBay or your own website. Don't want to breed goldfish? Why not build a business cultivating aquatic plants?
Goldfish are great for busy folks. Fish are relatively low maintenance and don't require much besides routine water changes and a regular feeding schedule. And with so many incredible benefits, who wouldn't want a goldfish? So get out there, and set up your first goldfish aquarium!
Goldfish are beautiful, peaceful, and mesmerizing. There are so many goldfish varieties available, which is why goldfish have become such popular pets. But they also need loving care and attention just like any pet. Are you prepared to give your goldfish what they need to thrive? Read more about the care demands of pet goldfish.
What About You?
Do you have goldfish? Have you discovered why goldfish make great pets? What amazing benefits have YOU noticed?