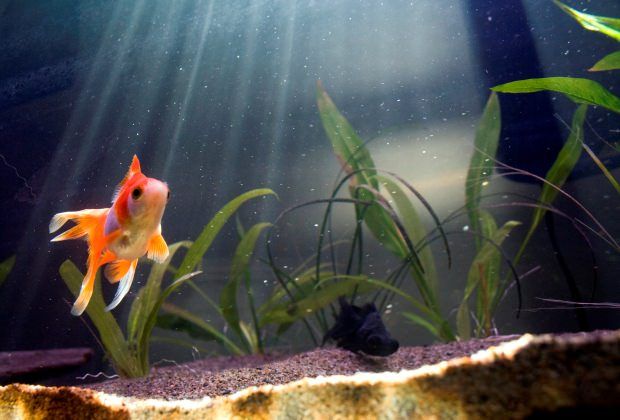 Since The Orients first developed goldfish from carp, these fascinating fish have expanded to include a variety of colors, shapes, and sizes. Some common goldfish types are even bred to develop special characteristics. Bulging eyes, raspberry-like head growths, eyes that gaze heaven-ward, round fluid-filled eye sacks, elaborate nostrils, and flowing fins to name a few.
Goldfish also aren't just in gold hues. You can find common goldfish types in striking reds, yellows, whites, purples, blues, and blacks – even in calico.
And think that goldfish are just in solid colors? Think again! Common goldfish types are in a mixture of color combinations to fit your personality and tastes.
Few aquarium fish have been developed in as many varieties as the goldfish. It has been estimated that there are over 125 varieties! – Marshall E. Ostrow, author of Goldfish (Barron's Complete Pet Owner's Manual)
In fact, there are so many different varieties of goldfish in stores today that it can be difficult to choose which ones to bring home with you. Some common goldfish types, like celestial or bubble-eye goldfish, are even too sensitive for the beginner hobbyist just starting out. Such goldfish are better off with expert care.
Let's take a look at the most common goldfish types available in pet stores. See any you like?
Slim-bodied Goldfish
Slim-bodied goldfish are so hardy that they are often wonderful choices for the novice goldfish owner. They can even get along well in less-than-ideal water quality and very cool temperatures, but you should still strive to make the water comfortable for your fish. Slim-bodied goldfish are also great for outdoor ponds, since they aren't as sensitive to cold water as fancy varieties are. What's more, these goldfish get pretty large and a pond is even recommended.
Since slim-bodied goldfish are strong, fast swimmers and competitive eaters, I don't suggest keeping these common goldfish types with most fancy varieties. Fancy goldfish are slow-moving and can't compete for food with slim-bodied goldfish around.
Slim-bodied goldfish are very rambunctious. Because they grow very large and are faster than fancy goldfish, they need at least 30-gallons of water (114 liters) per fish.
Common Goldfish – Some of the hardiest goldfish around, common goldfish get along well in outdoor ponds and can tolerate slightly polluted water better than most common goldfish types (even so, don't neglect water quality). Common goldfish most resemble their ancestor, the carp, and have a forked caudal (tail) fin with a smooth body. If kept in a pond, common goldfish can grow well over a foot long. These fish are available in many colors, including red, black, orange, white, yellow, and bronze. You can also find them in a combination of colors. Common goldfish are an excellent choice for beginners as long as tank requirements are met.

Comet Goldfish – Like common goldfish, comet goldfish have a slim body with stiff fins. But unlike other common goldfish types, these fish have much longer fins with a deeply forked caudal fin that can be almost as long as the fish's body. While comet and common goldfish are two different types of goldfish, they're still usually kept together in the same tank in pet stores (often sold as feeder fish). Like commons, comet goldfish are very hardy and can be kept in ponds (usually) without a problem. They also come in many colors and are excellent beginner goldfish.

Shubunkin Goldfish – These fish are also recommended for novice goldfish owners and are recognizable by their beautiful calico pattern (pattern includes orange, yellow, red, brown, black, grey, white, purple, and blue colors). The more blue shubunkin goldfish have, the more valuable they're considered. Like most slim-bodied goldfish, shubunkins are very hardy, competitive eaters, and fast swimmers.
Egg-shaped Goldfish
Also known as fancy goldfish, egg-shaped goldfish are very sensitive to poor water quality conditions. For this reason, many fancy goldfish are only recommended for experienced fish owners.
Most fancy goldfish have distorted swim bladders (because of their egg-shaped bodies) that can cause problems in poor water conditions – and even cause the fish to swim at a downward angle. Fancy goldfish are not ideal for ponds, since a majority are much too delicate and can't withstand water temperatures below 60°F (16°F).
As mentioned before, most egg-shaped goldfish shouldn't be kept with slim-bodied goldfish. If you do keep both goldfish types together, you risk frequent fin nipping, fancy varieties not getting enough to eat, and other problems. Many fancy goldfish also have very delicate features (bubble-eye goldfish, for example) that can easily tear at the slightest nip, making it even more imperative that these goldfish are kept away from fast-moving fish.
Like all common goldfish types, fancy goldfish do just fine if water conditions are met and you take safety precautions when handling or feeding. Fancy goldfish prefer 20 gallons (76 liters) of aquarium water at the very minimum, with 10 gallons (38 liters) for each additional fish.
Fantail Goldfish – One of the hardiest fancy varieties, fantail goldfish can sometimes even survive fine in ponds or when kept with slim-bodied goldfish (though keep a close eye on your goldfish to make sure they're getting their share of food). Fantail goldfish are recognizable for their split caudal fin and are typically found in orange or calico colorations, though other colors are also available.

Veiltail Goldfish – While veiltails are thought to be very beautiful and graceful fish, they're also one of the most sensitive common goldfish types because of their long, flowing fins. They look a lot like fantail goldfish but with slightly rounder bodies and a more distorted swim bladder. Their long fins are very sensitive to goldfish diseases and tears. These fish are not recommended for beginners because they're so sensitive, and they most certainly shouldn't be kept in outdoor ponds.

Telescope Goldfish – Telescope goldfish have very limited vision because of their protruding eyes (which resemble telescope lenses). The body of a telescope goldfish is very similar to a veiltail goldfish. While telescope goldfish aren't very hardy, they're also not as weak as veiltails either. Telescope goldfish come in all sorts of colors. Because of their limited vision, they make poor competitors for food if kept with slim-bodied goldfish. These fish are usually best handled by intermediate goldfish owners.

Black Moor Goldfish – Black moors have a surprisingly high tolerance for cold water temperatures and are very hardy, despite the fact that these jet black fish also have telescope eyes (though the eyes don't protrude as much as a telescope goldfish). Unlike other common goldfish types, black moors are fine pets for beginners and can even survive well in outdoor ponds.

Lionhead Goldfish – Lionhead goldfish aren't the best swimmers because they lack a dorsal fin (located on the fish's back). They're also very slow moving and should only be kept with common goldfish types that are also slow swimmers. Lionhead goldfish are named after the fleshy hood that surrounds their face, except for the eyes, mouth, and nostrils. This hood is soft to the touch but actually doesn't tear as easily as you may think. Lionheads are sensitive fish and shouldn't be kept in outdoor ponds with fast-moving goldfish types. They're also not recommended for beginners.

Oranda Goldfish – Like lionheads, oranda goldfish have a similar headgrowth (also called the wen), though it only develops on the top of the head and slightly on the sides of the head as well. Oranda goldfish resemble fantails in body shape and are very slow moving. These fish come in a variety of colors and shouldn't be kept by beginners.

Celestial Goldfish – Celestial goldfish have limited eyesight, since the eyes are actually locked upwards (almost like the fish is gazing at the sky). For this reason, the Chinese often call celestial goldfish stargazers. Celestial goldfish should only be kept by advanced goldfish hobbyists. They lack a dorsal fin and are slow moving, compared to slim-bodied fish and other common goldfish types. They tend to feel their way around the aquarium or position their body in a way that allows them to see forward.

Bubble Eye Goldfish – One of the most fragile common goldfish types around, bubble eye goldfish develop very delicate fluid-filled sacs beneath their eyes. These sacs cause their eyes to slant upward like celestial goldfish (though the upward slant isn't nearly as severe). Bubble eye goldfish are probably the worse swimmers and can't handle even the slightest currents, so I wouldn't recommend a strong power filter for these guys. They spend most of their time resting on the aquarium bottom. When keeping a bubble eye goldfish, it's important that you only have smooth gravel or no gravel at all. Sharp rocks can easily burst the sacs beneath their eyes and attract goldfish diseases. Like lionhead goldfish, these fish have no dorsal fin. Bubble eye goldfish are only recommended for experts.

Ryukin Goldfish – Ryukin goldfish are good goldfish for beginners and are recognizable by their large hump behind their head that sharply rises at an angle on their back where the dorsal fin is. Ryukin goldfish come in different colors, including orange, white, red, and calico. The most prized ryukins have long, flowing fins.
Goldfish can be fascinating, but the common goldfish types listed above aren't the only goldfish varieties available. This article only showcases the most commonly found goldfish in aquariums, whether you're new to fish keeping, you've been keeping goldfish for a while, or you're an expert on goldfish care.
Since there are so many goldfish types available in stores today, it's impossible not to find at least a few that attract your eye. Even if you think you might have found the perfect goldfish, you should make purchasing decisions wisely and only choose the healthiest fish in the pet store. You should also cycle your aquarium before buying your first goldfish from the pet store to ensure that your aquarium nitrogen cycle (this will make maintaining good water quality easier). Slim-bodied goldfish, fantails, black moors, and ryukins are generally recommended for goldfish owners just starting out.
After you've gotten the basic goldfish care requirements down, raising goldfish can be a pleasant and even exciting experience. And once you've been keeping goldfish for a while, you can even start looking into exotic goldfish varieties to enhance the beauty of your aquarium – or breed common goldfish types for certain traits to develop your own goldfish varieties.
Which Common Goldfish Types Do You Like Most?
Do you keep goldfish? Have any personal favorites? Suggestions on how to raise common goldfish types? I'd love to hear from you!